It's a rainy day here in London and it doesn't make going out very appealing. It's one of those days where you start brainstorming dinner ideas over breakfast. Luckily I usually have about 50 recipes on my "to-make" list at any given time so I'm one of those who's clueless about what to have for lunch or dinner.
Although I do follow my favorite blogs via Facebook or twitter and get RSS feed updates I can't help but immediately pin every single good looking recipe that comes my way. On some occasions, with the recipes that look too good to just pin, I add them to my "favorite blog foods" in my toolbar. It's a very special place and not any recipe will make into that folder. So, want to know which recipes I found especially good-looking this week? Take a look!
Pumpkin Cream Cheese Oreo Chunk Brownies seen on Picky Palate
I welcome pumpkin recipes with open arms but this has taken the term "pumpkin recipe" to the next level. Pumpkin cream cheese, oreo chunks and a brownie in one dessert? Jenny sure knows how to make her readers happy.
Chocolate Chip Pumpkin Pancakes seen on Eat, Live, Run
Yup, that would be another pumpkin recipe but in form of pancakes. Which means you can have pumpkin for breakfast. I know that lots of you have pumpkin oats but who can really say no to pancakes? Especially when they contain chocolate chips!!!
Salted Caramel Apple Hand Pies by Just a Taste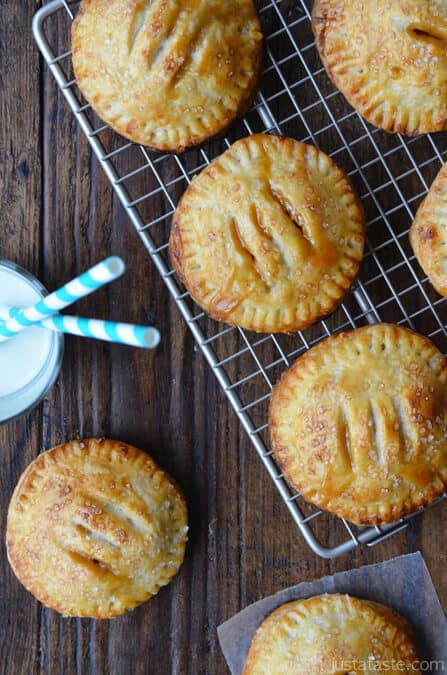 Seriously, how could you know not want to make these. In my opinion Kelly is a genius for coming up with these petit apple pies. I might really have to make these today. Not sure I can resist the temptation!!!
Homemade Snicker Bars by How Sweet It Is
Jessica actually posted about these back in January but I've only recently come across the mouthwatering treats. Aren't they beautiful? Just look at how the sticky caramel is running down the sides of the bar. Amazing!!!
Lightened Up Snickers Pie by Eat, Live, Run
And for those of you who prefer to consume Snickers in the form of pie, Jenna created this Snickers pie. The chocolate filling is vegan so that makes the whole thing sort of guilt-less, right?
I just now realized that none of these recipes were actual dinner recipes, unless of course you are serving pie or pancake for dinner. But at least we've got dessert covered
Have a great Sunday!!!