Hi friends. Sorry for not posting any new recipes lately but I've been busy at home, working on some personal projects and having fun with my family and friends. I promise I'll get creative sometime soon and come up with healthy, fun spring/summer recipes. This past week my mom's been doing most of the cooking (thanks mama!) so it was especially delicious but now that the long weekend is over for us I have my part-time job back and am in charge of cooking lunch/dinner for the family.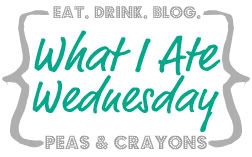 For today's post I'll be showing you what I ate yesterday. As always THANKS to
Jenn
for hosting the weekly foodie-party.
Breakfast was really special since I met one of my best friends for breakfast. I don't often go out for breakfast when I'm in Austria since it's not that typical to have breakfast on-the-go or at cafés. I personally believe things would change drastically if we'd have a Pain Quotidien here. Just sayin'! Anyhow the place we went to had a build-a-breakfast menu where you could choose the things you wanted out of an extensive list as opposed to ordering a set menu.
I had a muesli, yogurt, a bowl of mixed fruit, a bread roll with cottage cheese and a latte to wake me up.
After our breakfast we strolled through the town center before deciding it was time for juice. I had grapefruit juice, Nina hat carrot-orange juice.
I wasn't really that hungry when lunch rolled but there's always room for tempeh with caramelized peanuts in my belly. We followed this recipe but instead of the hazelnuts we used peanuts and had rice on the side. It's delicious, either way!
Lunch was followed by coffee and dessert (cookies 🙂 )
I was busy all afternoon helping my mom with stuff around the house and sorting things that needed to be sorted but was hit by hunger at 6:30pm. I didn't have the patience to cook anything fancy so I got some lettuce from the garden, added some tomatoes and mozzarella and topped it with leftover barbeque meat. I sliced up some watermelon for dessert. I just can't get enough.
HAPPY WIAW!