Although I'm an Apple gal all the way (I have an iPhone and MacBook) when it comes to food the Blackberry has stolen my heart. They are so good and lighten up even the dullest meal. My Monday included almost a whole pack but I just couldn't stop munching on them throughout the day. A warning right at the start, I studied pretty much all day long (except for a trip to the gym) so I was verrrry hungry.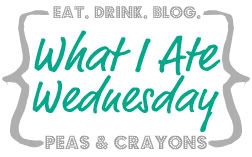 A huge thanks as always to
Jenn
for throwing the weekly party!
It was a cold morning so oatmeal sounded just fine! I threw strawberries and blueberries right into the mix while it was simmering away and added blackberries on top. A spoon of PB for extra study energy 🙂
Whilst studying I snacked on nuts (cashews and almonds) and raisins. Unfortunately the nuts were salted and the left me very thirsty for the rest of the day!
Lunch came together in a flash. I made a salad with chopped red bell pepper. I used up the last bit of cheddar the I had left and cut it into small cubes. Garnished with strawberries and blackberries. 2 slices of wholemeal toast on the side.
For dessert I had Lindt Orange Intense. This is my favorite chocolate at the moment (until I come home and finally get to have some Milka chocolate again!). Even though the chocolate is wafer-thin it's filled with nuts and orange pieces and the two flavors together with the bitterness of the dark chocolate creates a firework for my taste buds…so good!
After eating all those blackberries I had to throw in an apple somewhere. Instead of the usual Pink Lady I chose a Golden Delicious and filled it with crunchy PB. I'm telling you apples have never tasted so good! Made the perfect afternoon snack  (it tasted a lot more like dessert!)
For dinner I had leftovers, once again! I had spinach-stuffed chicken which was served with tomato sauce and cheese. I'll post the recipe later this week if I don't forget. Broccoli on the side.
And since I had a long night of studying ahead of me I made myself a small bowl of overnight oats with blackberries later that night….scrumptious!
Hope you all have a wonderful, food-filled day 🙂