Hi y'all! Happy Wednesday.
This usually is my favorite day of the week, except for Fridays and Saturdays but since I have an exam today I'm my less-happy self this morning. Today I'll be sharing my Saturday eats with you since I simply did not take a lot of pics yesterday and it would have been a rather empty post! Big thanks as always to Jenn for throwing the foodie-party!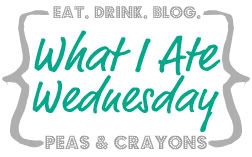 I began my day with the classic bowl of oatmeal. It's been pretty dreary and cold around here
lately
for the last 3 weeks so something warm sounded perfect. Juice on the side as I was too lazy to fill up the kettle to make tea.
My morning snack was my favorite green juice: the Nakd Green Machine Smoothie. A bit expensive but perfect as a weekly healthy splurge 🙂
Lunch was once again an oven-roasted creation: herb-crusted trout, quinoa and oven-roasted asparagus. So simple, yet so good!
Since I made 2 trouts I had one leftover, which I had for dinner on Monday. I thought I'd add pics as an WIAW-bonus. Served with brown rice and a huge pile of salad 😀
My afternoon snack/ dessert was a Müller vanilla yogurt with dark chocolate sprinkles. They were on offer (3 for £ 1) and I couldn't say no to that. I still prefer my usual Greek yoghurt which is a lot less sweet since the Müller yogurts left me more thirsty than I already am! Anyone else have the same problem after eating sugary treats?
For dinner I made myself another one of my favorites: cheese and crackers + grapes. The perfect no-cook dinner/ lunch/ snack although the grapes really weren't that great.
Throw in 2 cups of not pictured coffee (one in the morning, one in the afternoon) and a couple of squares of dark chocolate and you've got my Saturday eats.
I can't wait to read all of your WIAW posts as a post-exam treat! Have a great WIAW!