Hello friends! Welcome to another round of WIAW. It just so happens that I have another exam today so I'll keep the intro short and snappy! As always thanks to Jenn for throwing the weekly party.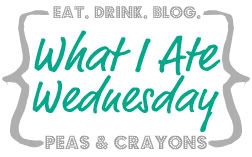 My breakfast was maybe the best part of the day! Isn't is always? A couple of months ago I bought a jar of peanut butter with an intention in mind. I saw that
Kath
likes making overnight oats in her empty nut butter jars and I thought it was a fab idea. I specifically bought this jar for the purpose of eating my oats out of it so you can imagine how happy I was when the day I had been waiting for finally arrived.
Very crunchy PB + overnight oats (with berries) = heaven! Polished it all off!
I then studied until noon and went to my power yoga class. My pre-workout snack was a cup of melon.
My post-workout snack was chocolate milk. This has been one of my favorite afternoon snacks lately and has been perfect for when I have a chocolate craving while studying.
Lunch was thrown together quickly. Penne with blanched spinach, cherry tomatoes and some pesto. Garnished with Parmesan, of course!
In the afternoon I had to run into town to buy a new cartridge for  my printer and on the way back I stopped at Prêt à Manger to buy dinner. I'm always glad when dinner is already prepared and no dishes are needed or have to cleaned! I chose the Superfood Salad, hoping that it would activate a couple more brain cells for my exams.
I spent the rest of the evening doing some last minute revision with my friend over the phone. And then went to bed early to watch the newest Gossip Girl episode (which probably deactivated the brain cells again). Wish me luck for my exam!
HAPPY WIAW!